VXP STRATEGIC PLANNING - A HIGH LEVEL COGNITIVE STRATEGY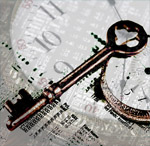 Most R & D is of the deep silo variety. The literature on research methodology reveals that this is not the optimal method for research and innovation. The VXP concept is to provide a structured, multi-disciplinary, high level thinking, strategy that uses methods known to be optimal for innovation. VXP creates a Knowledge Science Enhanced Virtual Laboratory of analytic physical models, abstracted in Mathcad as a re-usable framework across a spectrum of fundamental and leading edge research. Higher level logic analysis tools, such as TRIX, are applied for analysis using Knowledge Science, Known Breakthrough Methods, in unision with the Mathcad physical models. Continued research and innovation structured on the learning sciences will continue to advance our VXP analysis methodologies.

The core strategy is to work not just hard, but smart.