OUR SERVICES - VX PHYSICS (VXP)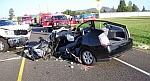 Automotive Expert Physicist - Opinion Review - The Daubert Standard
Accident reconstruction is the process of answering the question, "What happened?" Information about accidents comes from multiple sources; the roadway, the vehicles or people. The highest level of accident reconstruction comes from an expert that has a deep understanding of the physics, engineering, and science involved. When the question of "What happened?" is asked, VXP's answer is based on a thorough understanding of the sciences, engineering principles, and factual data that only a Physicist/Scientist or Professional Engineer can provide with certainty.
Disciplines and Areas of Automotive Expertise
- Electromagnetic interference/compatibility, singe event upsets
- Materials, Structures, Thermal
- Automotive Systems - ECUs (rare event failures)
- Analytic/Math Modelling
- Transient Thermal Analysis


Litigation Support
- Expert Witness Testimony - VXP meets the Daubert standard rules of admissability that evidence be based on the laws of Physics, not opinion.
- Rebuttal Reports
- All of our Results can be shown to come directly from the laws of Physics and/or peer reviewed Engineering Practice
- Complies with the Daubert Standard
- Computer Rendered Scene Simulations
- Legal Graphics


The Impact of Daubert on Forensic Science

Gatekeeping and the Admissibility of Scientific Evidence in the Post Daubert Age